What Is Information Gain?¶
Information Gain, or IG for short, measures the reduction in entropy or surprise by splitting a dataset according to a given value of a random variable. A larger information gain suggests a lower entropy group or groups of samples, and hence less surprise.
Entropy quantifies how much information there is in a random variable, or more specifically its probability distribution. A skewed distribution has a low entropy, a distribution where events have equal probability will have larger entropy.
Information gain is commonly used in the construction of decision trees from a training dataset, by evaluating the information gain for each variable, and selecting the variable that maximizes the information gain between the parent node and its split nodes, which in turn minimizes the entropy and best splits the dataset into groups for best classification.
In a binary case:

Entropy is 0 if all samples belong to the same class for a node (i.e., pure)
Entropy is 1 samples contain both classes for a node (i.e., 50% for each class awful)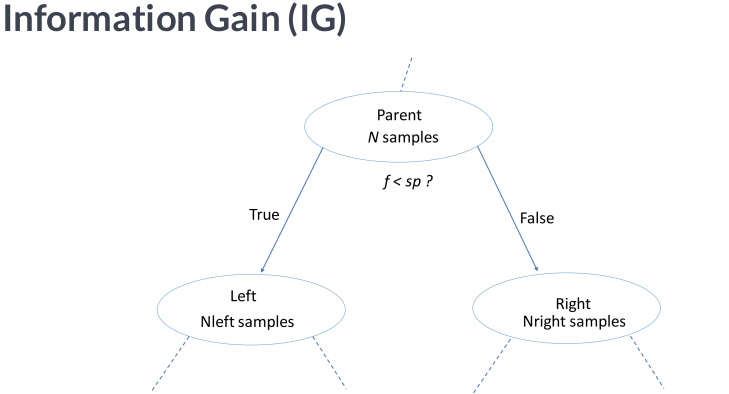 Information quantifies how surprising an event is in bits. Lower probability events have more information, higher probability events have less information.
Skewed Probability Distribution (unsurprising): Low entropy.

Balanced Probability Distribution (surprising): High entropy.
Information gain can also be used for feature selection, by evaluating the gain of each variable in the context of the target variable. In this slightly different usage, the calculation is referred to as mutual information between the two random variables.